1. Aviaries, Bird Rooms & Cages - Their Construction & Furnishing. By H. Norman, fully illustrated, 117 pages.
2. Bird Keeping, A Practical Guide for the Management of Singing and Cage
Birds. By C. E. Dyson c1878. 317 pages, with woodcuts and coloured plates.
3. The Flying Tippler & Tumbler Pigeon, by G. Smith. How to Breed, Rear & Train the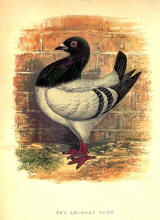 Macclesfield Tippler and the High Flying Tumbler Pigeon. c1886, 66
pages.
4. British Birds For Cages & Aviaries, by W. T. Greene
c1899. 'A handbook Relating to All British Birds Which May Be
Kept in Confinement'. 270 pages.
5. Cage & Chamber Birds, Their Natural History,
Habits, Food, Diseases, Management and Modes of
Capture. By J. M. Bechstein M.D., c1885, 605 pages.
6. Canaries & Cage Birds, The Food, Care, Breeding, Diseases
and Treatment of All House Birds, Birds for Pleasure and for Profit. By George Holden c1888,
344 pages.
7. Fancy Pigeons, by J. C. Lyell, c1887, 536 pages. Contains ?Full Directions for their
Breeding and Management, with Descriptions of Every Known Variety and All Other
Information of Interest or use to Pigeon Fanciers.
8. Favourite Foreign Birds for Cages and Aviaries.. By W. T. Greene, c1891,
156-pages.
9. Foreign Birds for Cage And Aviary (Volume 1 ?The Smaller Foreign Birds).
By A. G. Butler, 213-pages.
10. Foreign Birds for Cage And Aviary (Volume 2 ?The Larger Foreign Birds).
313 pages.
11. Foreign Finches In Captivity by Arthur G. Butler, c1899. 461 pages, profusely
illustrated with attractive colour plates.
12. Holden's New Book On Birds, c1903. 'Keep Your Birds in Health, The Food, Care,
Breeding, Diseases and Treatment of House Birds.?139-pages.
13. Indian Pigeons & Doves by E. C. Stuart Baker, c1913, 340-pages.With 27 very
attractive colour plates.
14. Pigeons & All About Them, by F. M. Gilbert c1898, 267 pages.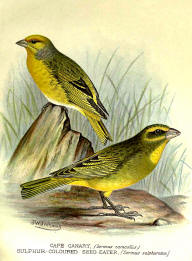 15. Pleasures Of A Pigeon Fancier, Rev. J. Lucas c1886,
184 pages.
16. Song Birds & How To Keep Them. By E. A. Maling
c1862, 177-pages.
17. Sweet Songsters of Britain,'With Hints for the Rearing
and Management of Cage Birds? By H. G. Adams c1800s.
307 pages.
18. The American Bird Fancier, Considered with reference
to the Breeding, Rearing, Feeding, management and
Peculiarities of Cage and House Birds, with Remarks on their
Diseases and Remedies, Drawn from Authentic Sources and Personal Observation. By D. J.
Browne, c1850, 116 pages.
19. The Book Of Cage Birds, by Henry B. Hirst c1843, 296 pages.
20. The Canary, Its Varieties, Breeding & Management. By Rev. Francis Smith,
c1878, 190 pages.
21. The Canary Book, 'Containing Full Directions for the Breeding, Rearing and Management
of Canaries and Canary Mules; Cage Making etc; Formation of Canary Socieites; Exhibition
Canaries, their Points and how to Breed and Exhibit Them, and all other matters connected with
their Fancy.?By Robert L. Wallace c1904, 494 pages.
22. The Dovecot and the Aviary 'Being Sketches of the Natural History of Pigeons and
Other Domestic Birds in a Captive State, with Hints for their Management? By Rev. E. S.
Dixon M.A., 482 pages.
23. The Natural History of Cage Birds, ?Their Management, Habits, Food, Diseases,
Treatment, Breeding and the Methods of Catching Them.?By J. M. Bechstein, M.D., c1812,
324 pages.
24. 'The Practical Pigeon Keeper?/b> by Lewis Wright, 244 pages.