OLD TIME RADIO refers to classic radio shows from the early days of radio broadcasting between the mid 1920's and right through 1960 in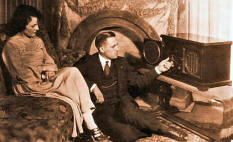 the United States as well as the United Kingdom and Canada and some other countries. This "golden age of radio" included all genres of amazing recordings which were frequently performed live by top name performers. The term usually applies to a wealth of popular dramas, comedies, mystery shows, westerns and memorable variety shows.
Hosts of eager families would regularly sit around their radio listening to the exciting broadcasts in much the same way as we sit around television sets today. A great deal of

radio history was lost or never recorded and existing episodes still in circulation were primarily stored by fans or sponsors of the programs. Old Time Radio shows on MP3 DVDs can be stored on or played on a computer with a DVD drive.
It is easy to listen to MP3 files on your computer or to copy them to a portable MP3 player like Apple's iPod or any of numerous other portable MP3 players. Once safely stored on your computer they can then also be readily converted into normal audio CDís too, so offering a host of great opportunities for the business-minded.

* The Copyright Question - can I market and sell these forgotten shows myself?
Under the old U.S. copyright law (these versions were mainly broadcast in the States) a copyright was good for 28 years from the date of first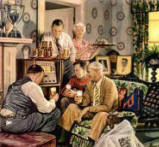 publication, renewable for another 28 years, for a total of 56. Copyrights under a newer law, which took effect on 1 January 1978, are good for the life of the author plus 50 years - but sound recordings as such could not be independently

copyrighted until that new law took effect, hence the existence today of many sites, companies and hundreds of individuals freely publishing and selling Old Time Radio recordings without any problem. Some larger enterprises have made a big business out of doing just that.
Until the law is eventually clarified, we too offer our compilations on the understanding that they are copyright free and in the public domain but nevertheless are provided here mainly for your listening pleasure. We do not own the copyrights to any of the individual shows personally and are unaware of anyone who does. We believe that the copyrights have expired, or that the shows are in the public domain because they were never copyrighted under the above law and often the broadcasts in the main were not recorded or preserved by the radio stations involved. We owe the existence of the bulk of these recordings to individual enthusiasts of long ago who took the time and trouble to record the shows themselves or for posterity. However we will be happy to remove any recording from our site that are shown to violate any actual copyright.

* Offered below on disc are Thousands of Hours of Exciting and Nostalgic Entertainment from the Golden Age of Radio - at a price you can afford!

You receive a big variety of shows in each themed set, offering the opportunity for you to divide and market
shows individually either in MP3 format or on audio discs. In other words in significantly altered form
(the discs as supplied are our proprietary product and may not be copied and/or resold in their entirety).


OVER 3,000 EPISODES ON 4xDVD'S - Hundreds of hours of gun-slinging entertainment, including...
All Star Western Theatre, Fort Laramie, Gene Autry's Melody Ranch, Have Gun Will Travel, Horizons West, Lone Ranger, Red Ryder, Six Shooter, Tennessee Jed Sloane, Wild Bill

Hickock, The Cisco Kid, Frontier Fighters, Gunsmoke, Hopalong Cassidy, Hawk Larabee, Sgt. Preston of the Yukon, Tales of the Texas Rangers, Will Rogers. Only ?.95 for the entire four-disc collection + ?.00 s&h anywhere...
1,913 EPISODES & SHOWS ON 2xDVDs - Hundreds of hours of nail-biting entertainment, including...
Aliens in the Mind, Black Chapel, Black Mass, Black Museum, Blue Beetle, Boris Karloff, Cabin B13,

Creaking Door, Dark Fantasy, Dr Jekyll & Mr Hyde, Frankenstein, Hall of Fantasy, Haunting Hour, Hermits Cave, House of Mystery, Incredible But True, Inner Sanctum, Lights Out, Mysterious Traveller, Quiet Please, Sealed Book, Shadow of Pharoah, Sleep No More, Strange Doctor Weird, Suspense, Tales From The Tomb, Unspeakable Secrets, Weird Circle. Only ?.00 for the entire collection + ?.50 s&h anywhere...
3,476 EPISODES & SHOWS ON 4xDVDs - Hundreds of hours of crook-chasing entertainment, including...

Five Minute Mystery, Adventures of Phillip Marlowe, Adventures of Sam Spade, Big Guy, Big Town, Calling All Cars, Casebook of Gregory Hood, Casey Crime Photographer, Charlie Chan,

Crime Classics, Crime Club, Crime Does Not Pay, Crime Files of Flamond, Dick Tracy, Dr Tim Detective, Dragnet, Ellery Queen Minute Mysteries, The Falcon, Famous Jury Trials, Gangbusters, House Detective Becker, Miss Sherlock, Mr District Attorney, Mr Moto, Murder by Experts, Murder Clinic, Nick Carter, Out of the Night, Police Headquarters, Secrets of Scotland Yard, Sherlock Holmes, That Hammer Guy, The Avenger, The Saint, The Shadow, The Whistler, This is your FBI, Whitehall 1212, and Johnny Dollar.
Only ?1.00 for the entire collection + ?.00 s&h anywhere...
OVER 630 EPISODES ON DVD - Hundreds of hours of planet-hopping entertainment, including...


2000 Plus, Alien Worlds, Aliens in the Mind, Beyond Tomorrow, Buck Rogers, Dan Dare, Day of the Triffids, Dimension X, Exploring Tomorrow, Flash Gordon, Invisible Man, Journey Into Space, Orbit, Secret of Dominion, Silent Planet, Space Patrol, and Starship Titanic. Only ?.00 for the entire collection + ?.50 s&h anywhere...
Part 1:- Remember those quaint old radio advertising jingles? Many (150 of them in fact) comprise just part of this

wonderfully nostalgic collection on DVD. Part 2. includes famous speeches from history (everyone from Churchill to Hitler is included) plus sounds bites of many famous people from all walks of life including politicians, sports personalities and entertainers. A truly historic collection of over 400 must-have recordings.
Only ?.00 for the entire collection + ?.50 s&h anywhere...



Sales Terms / How to Order

Please be sure to read the General Info and Terms of Use right.
(Deemed Accepted by Ordering).

Use the secure Paypal credit card buttons for an instant buy!

* You may state your choice/s while ordering in a 'message to seller' or e-mail instructions afterwards.

=Fast= shipping worldwide from our U.K. distribution centre -
Other quantities, please ask for a no obligation Paypal invoice.

Delivery Within 4-10 Days* to most locations.

PAYMENT: Available Payment Options:-
Credit Card or 'eCheque' via Paypal - use the buttons provided.



---

Please note the following Terms (deemed
accepted by making any purchase)...

WITH a purchase of our radio show compilations you are granted permission to personally use them as you wish, but you may not copy or distribute our own discs as is as they represent our copyrighted 'compilations' and proprietary product and accordingly bear a non-audible digital imprint to that effect. They are supplied in bulk sets enabling you to market shows should you wish, individually in either MP3 format as supplied or on audio disc - in other words in altered form. Note, you may not grant any 'rights' onwards to others. Note that all recordings are believed to be in the Public Domain but any shows will be removed if it is shown they are not.

They are supplied without fancy packaging or graphics at an economy price, so offering you the opportunity of designing and marketing your own individual radio offerings. Purchasers wishing to engage in business activities with the recordings should conduct their own regular research into the copyright situation which may be subject to occasional change, and thereby bear responsibility for their own personal actions. Please note that audio quality may vary throughout in accordance with their age.

---