Victorian Cookbooks Section (Examples)...
The Cook And Housekeepers Complete & Universal Dictionary Including a System of Modern Cookery in all its Various Branches Adapted to the use of Private Families also a Variety of Original Valuable Information related to Baking, Brewing, Carving, Cleaning, Collaring, Curing, Economy of Bees, of a Dairy, Economy of Poultry, Family Medicine, Gardening, Home Made Wines, Pickling, Potting, Preserving, Rules of Health and also every other subject connected with Domestic Economy. By Mrs Mary Eaton, c1823, 544 pages.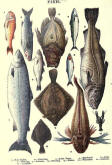 Delicate Feasting by Theodore Child, c1890, 239 pages.
Directions for Cookery being a System of the Art in its Various
Branches, by Miss Leslie c1837, 436 pages.
Handbook of Practical Cookery for Ladies and Professional Cooks
containing the Whole Science and Art of Preparing Human Food. By Pierre Blot,
c1884, 485 pages.
Lady's New Receipt Book A Useful Guide for Large or Small Families, containing
Directions for Cooking, Preserving, Pickling and Preparing Articles According to the Most New
and Approved Receipts. c1850, 522 pages.
Miss Beecher's Housekeeper and Health-keeper containing Five Hundred Receipts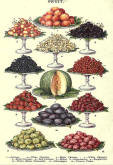 for Economical and Healthful Cooking, also many Directions for Securing Health
and Happiness. c1873, 491 pages.
Miss Parloa's Kitchen Companion 'A Guide for all who would be
Good Housekeepers', c1887, 978 pages.
The Modern Housewife Or Menagere 'comprising nearly 1,000
receipts for the economic and judisceous preparation of every meal of the
day with those of the nursery and sick room and minute directions for family
management in all its branches.' By Alexis Soyer, c1850, 394 pages.
Mrs Beeton's Book Of Household Management A Guide to Cookery in all its
Branches ?Daily Duties, Meny Making, Mistress & Servant, Home Doctor, Hostess & Guest,
Sick Nursing, Marketing, The Nursery, Trussing & Carving, Home Lawyer. 2,261 pages.
New Cyclopaedia of Domestic Economy and Practical Housekeeper adapted
to all Classes of Society ?Domestic Education, Houses, Furniture, Duties of Mistress, Duties of
Domestics, The Storeroom, Marketing, Table and Attendance, Care and Training of Children,
Care of the Sick, Preparation of Food for Children and Invalids, Preservation of Health,
Domestic Medicine, The Art of Cookery, Perfumery, The Toilet, Cosmetics and Five Thousand
Practical Receipts and Maxims. c1872, 623 pages.
Miss Leslie's New Receipts For Cooking comprising all the new and approved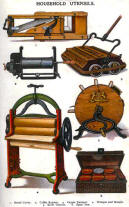 methods for preparing all kinds of foods and much useful information all
subjects whatever connected with general housewifery. c1852, 524
pages.
One Thousand And One Useful Recipes and Valuable Hints
About Cooking & Housekeeping. c1890, 197 pages.
Our Viands, 'Whence They Come And How They Are Cooked, with
a bundle of old recipes from cookery books of the last century.' c1893,
311 pages.
Practical Cooking And Dinner Giving 'A treatise containing practical
instructions in cooking; in the combination and serving of dishes; and in the fashionable modes of
entertaining at breakfast, lunch and dinner.' c1888, 391 pages.
The Art of Cookery Made Easy and Refined 'comprising ample directions for
preparing every article requisite for furnishing the tables of the nobleman, gentleman and
tradesman? c1802, 393 pages.
The Complete Cook 'Plain and practical directions for cooking and housekeeping with
upwards of seven hundred receipts, also general directions for making wines.' c1846, 346
pages.
The Cooking Manual Of Practical Directions For Economical Every-Day Cookery. By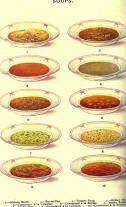 Juliet Corson, c1877, 150 pages.
The Cook's Oracle and Housekeeper's Manual 'containing
receipts for cookery and directions for carving, also the art of composing
the most simple and most highly finished broths, gravies, soups, sauces,
store sauces and flavouring essences, pastry, preserves, puddings, pickles
etc.' c1830, 441 pages.
The Cook's Own Book 'being a complete Culinary Encyclopedia
for cooking meat, fish and fowl, and composing every kind of soup,
gravy, pastry, preserves, essences etc, with numerous original receipts
and a complete system of confectionery.' c1832, 347 pages.
The Housekeeper's Book 'comprising advice on the conduct of household affairs in
general and particular directions for the preservation of furniture, bedding etc; for the laying in
and preserving of provisions, with a complete collection of receipts for economic domestic
cookery.' By A Lady, c1837, 230 pages.
The Imperial and Royal Cook 'consisting of the most sumptuous made dishes, ragouts,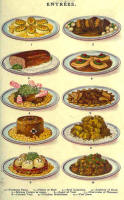 fricassees, soups, gravies etc foreign and English including the latest
improvements in fashionable life.' By Frederick Nutt, c1809, 356 pages.
Mrs Mason's Cookery Or The Ladies?Assistant, for regulating and
supplying the table, being a complete system of cookery etc also directions
for brewing and making wines. 533 pages.
The London Art of Cookery and Domestic Housekeepers?br> Complete Assistant, 'Uniting the Principles of Elegance, taste and Economy
and Adapted to the use of Servants and Families of Every Description.'
c1811, 437 pages.
The Modern Cook 'a practical guide to the culinary art in all its branches, containing in
addition to English cookery the most approved and recherch?systems of French, Italian and
German cookery adapted for the largest establishments and for the use of private families.'
c1859, 579 pages.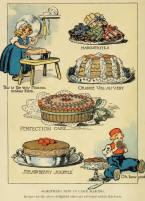 The Professed Cook or the Modern Art of Cookery, Pastry and
Confectionary Made Plain and Easy, 681 pages.
PLUS MANY MORE EARLY COOKERY BOOKS FROM THE VICTORIAN ERA!!!
Also Victorian Etiquette Bonus Section books such as these...
Our Deportment 'or the Manners, Conduct and Dress of the Most Refined Society,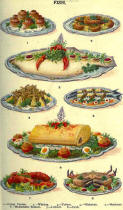 including forms for letters, invitations, etc etc also valuable suggestions on
home culture and training.' c1883, 443 pages.
Routledge's Manual Of Etiquette ?'etiquette for ladies, for
gentlemen, ball-room companion, courtship and matrimony, how to dress
well, how to carve, toasts and sentiments.?261 pages.
Plus Rare Victorian Alternative Medicine /
Homeopathy / & Herbals, such as these...
The English Physician 'enlarged with Three Hundred and Sixty-Nine
Medicines Made of English Herbs not in any former impression of Culpeper's British Herbal.'
By Dr. Parkins, c1809, 436 pages.
The Cottage Physician. 'Prevention, symptoms and treatment; best-known methods in all
diseases, accidents and emergencies of the home.' c1898, 657 pages.
The Complete Herbalist or the People Their Own Physicians by the use of Nature's
Remedies; describing the Great Curative Properties found in the Herbal Kingdom. c1878, 516
pages.
The Parent's Guide containing the Diseases of Infancy and Childhood and their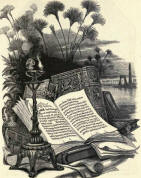 Homeopathic Treatment. c1854, 465 pages.
The Homeopathic Domestic Physician, c1883, 485 pages.
The Homeopathic Theory And Practice Of Medicine
c1852, 656 pages.
British Homeopathic Pharmacopia c1876, 445 pages.
Hartmann's Theory of Acute Diseases and their Homeopathic
Treatment Volume 1, c1847, 278 pages.
Hartmann's Theory of Acute Diseases and their Homeopathic Treatment Volume 2,
c1848, 220 pages.
Guernsey's Homeopathic Domestic Practice c1857, 687 pages.
Victorian Household Books Too. A Few Examples...
Home Dissertations 'an Offering to the Household for Economical Skill in Cookery,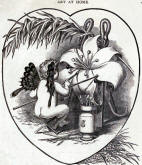 Orderly Domestic Management and Nicety in the Appointments of
Home.' c1891, 204 pages.
The Hearthstone of Life at Home 'A Household Manual
containing hints and help for home making, home furnishing, decorations,
amusements, health directions, the sick room, the nursery, the library,
the laundry etc.' c1883, 595 pages.
The Toilet of Flora 'or A Collection of the Most Simple and
Approved Methods of Preparing Baths, Essences, Pomatums, Powders, Perfumes and Sweet-
Scented Water, for the Use of the Ladies,' 287 pages.
PLUS MORE!!!
---