Part 1. Books, Brochures, Pamphlets...
THESE are now 20 Books & Catalogues. All are full scans complete with illustrations. They are in .pdf format for reading on a computer using Adobe Reader, which comes as standard usually (or is otherwise downloadable free).
1. Best Co Liliputian Bazaar. Muslin Underwear, waists, corsets catalogue.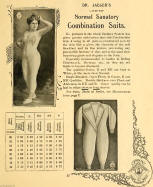 2. C. Stevens Supplementary Catalogue 1902-3. Fall & Winter 1902 Catalogue with under-muslins, silk and mercerized petticoats, corsets, hosiery etc.
3. Dr Jaeger Sanitary Woollen System 1897 "The Standard Underwear of the World" illustrated catalogue.
4. Dr Jaeger Sanitary Woollen System 1901.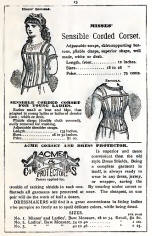 5. Equipoise Waist Co. Pamphlet featuring the company's corset waists.
6. Health and Beauty and Clothing 1864. Book with 234 pages.
7. HW Corset Waists and Brassieres. Corset waists and brassieres catalogue, illustrated.
8. Jaros Hygienic Wear 1890. 88-page booklet.
9. Ladies and Childrens' Underwear, Mrs A.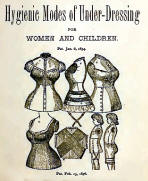 Fletcher's illustrated catalogue of ladies and children's underwear "constructed on dress reform and hygienic principles".
10. L'Art dans la Lingerie 1896. 116-page book showing the designs embroidered into corsets etc.
11. Novelties Specialties in Ladies, Childrens Underwear 1878. George Frost & Co catalogue of ladies and children's underwear.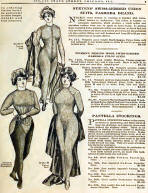 12. Le Pantalon Féminin 1916. 614-pages book (French).
13. Manual of Hygienic Modes of Under Dressing 1882, 58-page booklet by Mrs O. P. Flynt, inventor and manufacturer of improved under-clothing.
14. Practical Designer Womens and Misses Underwear1881 corset covers, camisoles, brassiers, envelope chemise, nightgowns, drawers, bloomers, combinations etc., 140 pages.
15. Serviceability of Cotton and Rayon Knit Underwear 1941, 22-page technical bulletin..
16. The Corset and the Crinoline illustrated book of modes and costumes, 252 pages.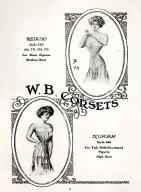 17. WB Corsets Catalog, 39 page illustrated catalogue featuring various corset brands including Erect Form, Nuform and Reduso.
18. Warner Bros Coraline Corsets Brochure.
PLUS two more just added!
The texts are presented in a convenient Adobe Reader form (.pdf files) suitable for all computer systems and which allows each title to be read individually and at leisure. This format also allows for all the essential illustrations to be shown in their full size, in-situ, as opposed to the text-only 'e-books' sometimes offered. Adobe reader itself is completely free to download from the Adobe web site, although it usually comes pre-installed anyway as standard on most computers.
A wonderful collection offering hours of reading at a low price - Why Not Treat Yourself?