1. 1,000 Choice Recipes Mysteries & Disclosures. "Touching every branch of business and giving many important hints. A lifetime in the collection." 117 pages, c1866.
2. 1,000 worth of Useful Information & Valuable Recipes. 19 pages, c1857.
3. A Dictionary of Everyday Wants. "Containing Twenty Thousand Receipts (sic) in nearly every
department of human effort." 544 pages, c1872.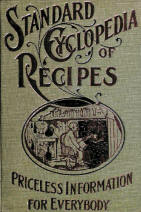 4. Moore's Artizan's Guide & Everybody's Assistant. "Containing over
2,000 new and valuable receipts and tables in almost every branch of business
connected with civilized life, from the household to the manufactory." 398 pages,
c1873.
5. Six Hundred Receipts Worth Their Weight in Gold. "Including
receipts for making perfumery, cordials, inks, paints, dyes, wines, spirits, whiskey,
brandy, gin etc." 326 pages, c1867.
6. Chemical Recipes. Nearly 1,000 modern formulae for producing all kinds of
colours and other chemical compositions." 379 pages, c1896.
7. Cooley's Cyclopaedia of Practical Receipts. 900 pages, c1800s.
8. Dr Chase's Recipes. "An invaluable collection of about 800 practical recipes for merchants, grocers,
saloon keepers, physicians, druggists, tanners, shoemakers, harness makers, painters, jewellers, blacksmiths,
gunsmiths, farriers, barbers, bakers, dyers, renovators, farmers, and families generally." 659 pages, c1874.
9. Encyclopedia of Practical Receipts & Processes. "Containing over 6400 receipts embracing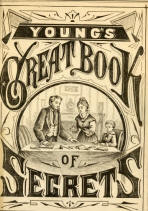 thorough information in plain language applicable to almost every possible
industrial and domestic requirement." 614 pages, c1872.
10. Facts For The People & Things Worth Knowing. "A book of
receipts in which everything is of practical use to everybody." 98 pages, c1850.
11. Henley's Twentieth Century Book of Recipes, Formulas &
Processes. "Containing 10,000 selected household and workshop formulas,
recipes, processes and money-saving methods for the practical use of
manufacturers, mechanics, housekeepers and home workers." 814 pages, c1914.
12. Hoover's Book Of Recipes. "An invaluable collection of private and
practical recipes and hidden secrets revealed." 157 pages, c1888.
13. Industrial Recipes. "A collection of useful, reliable, practical recipes, rules, processes, methods and
practical hints." 295 pages, c1913.
14. Information For Everybody. "An invaluable collection of about 200 practical recipes for business and
professional men, mechanics, artists, farmers and families." 108 pages, c1859.
15. Mackenzies Five Thousand Receipts. "All the useful and domestic arts constituting a complete
practical library." 463 pages, c1831
16. The Manual Of Receipts. "Collection of formulae and processes for artisans." 254 pages, c1899.
17. A Manual Of Useful Knowledge. "Being a collection of valuable miscellaneous receipts and
philosophical experiments." 271 pages, c1810.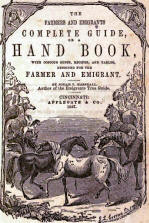 18. My Little Book. "A compendium of useful information containing
descriptions, directions, formulae, tables, recipes etc." 51 pages, c1879.
19. A Practical Treatise on the Manufacture of Perfumery.
"Comprising directions for making all kinds of perfumes, sachet powders,
fumigating materials, dentifrices, cosmetics etc." 366 pages, c1892.
20. Recipes for the Colour, Paint, Varnish, Oil, Soap & Drysaltry
Trades. 392 pages, 1902.
21. Standard Cyclopedia Of Recipes. "More than 1,000 recipes and
thousands of ways to make and save money – worth its weight in gold." 485
pages, c1901.
22. Tested Formulas "…and useful house and farm recipes." 148 pages, c1910.
23. The Artist's Companion & Manufacturer's Guide. "Consisting of the most valuable secrets in
arts and trades with above 500 valuable modern receipts." 202 pages, c1814.
24. The Domestic Manual or Family Directory. "Containing receipts in arts, trades and domestic
economy selected from the best authors and practical artists and containing many processes never before
published." 86 pages, c1816.
25. The Druggist's General Receipt Book. "Comprising a copious veterinary formulary, numerous
receipts in patent and proprietary medicines, druggists' nostrums etc, perfumery and cosmetics, beverages,
dietetic articles and condiments, trade chemicals and scientific processes." 516 pages, c1872.
26. The Farmers and Emigrants Complete Guide. "A hand book with copious hints, recipes and
tables." 510 pages, c1857.
27. The Hand Book Of Practical Receipts. "A manual for the chemist, druggist, medical practitioner,
manufacturer and heads of families." 311 pages, c1857.
28. The Mysteries of Trade. "Great source of wealth, containing receipts and patents in chemistry and
manufacturing." 159 pages, c1825.
29. The New Household Discoveries. "As encyclopedia of recipes and processes." 874 pages, c1917.
30. The New Standard Formulary. "A vast collection" 1,266 pages, c1912.
31. The People's Own Book of Recipes "including 1,000 practical and useful recipes embracing every
department of domestic economy and human industry, with copious notes." 418 pages, c1867.
32. The People's Vade-Mecum. "Comprising a collection of valuable receipts of general usefulness." 38
pages, c1870.
33. The Toilet of Flora "or a collection of the most simple and approved methods of preparing baths,
essences, pomatums, powders, perfumes and sweet-scented waters; with receipts for cosmetics of every kind
that can smooth and brighten the skin, give force to beauty and take off the appearance of old age and
decay." 280 pages, c1784.
34. The Useful Companion & Artificers Assistant "containing everything for everybody including
nearly six thousand valuable recipes." 705 pages, c1876.
35. The Vermin Destroyer "being a complete and necessary family book." 50 pages, c1821.
36. Trade Secrets and Private Recipes. "A collection of recipes, processes and formulae that have been
offered for sale by various persons at prices ranging up to five hundred dollars." 114 pages, c1887.
37. Valuable Secrets in Arts & Trades. "Containing upwards of one thousand approved receipts." 364
pages, c1700s.
38. What When & How, The People's Book of Ready Reference. "A collection of the most
practical, useful and valuable recipes, formulas and suggestions for every occasion. Household, medical,
toilet, agricultural, livestock, orchard, garden and miscellaneous departments for every member of every
family in town or country, with 10,000 recipes and handy facts." 698 pages, c1903.
39. M. Young's Great Book of Secrets. "Containing recipes, with instructions for making many
popular & saleable goods. Trade and mechanical secrets, money making inventions etc." 59 pages, c1878.
Bonus: Not quite the same type as the above but we are including it as a Free Bonus!
40. Old Time Recipes for Home Made Wines. "Fruits, flowers, vegetables, shrubs." 155 pages.
---