The Book of the Lantern c1888. "Practical guide to the working of the optical or magic lantern with full and precise directions for making and colouring lantern pictures" 326 pages.
The Sciopticon Manual c1877. "Explaining lantern projectors in general and the sciopticon in
particular" 340 pages.
Visual Instruction Through Lantern Slides and Motion Picture Films c1919.
"A practical handbook of what to eat and how to cook it." 24 pages.
Catalogue of Stereopticons. "also motion picture and projection apparatus" McIntosh
Stereopticon Company., 97 pages.
Catalogue and Price List of Stereopticons. T. H. McCallister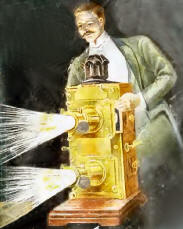 c1867.
Catalogue and Price List of Stereopticons. T. H. McCallister
c1887.
Lantern Slide Making and Exhibiting c1906. 59 pages.
Lantern Slides How to Make and Color Them. 91 pages,
c1895.
Modern Magic Lanterns and Their Management.
144 pages, c1869.
Montgomery Ward Magic Lanterns, Stereopticons & Moving Picture Machines.
44 pages.
Optical Projection, a Treatise on the Use of the Lantern c1906. 468 pages.
The Art of Projecting c1877. 177 pages.
The Art of Projection and Complete Magic Lantern Manual c1893. 215 pages.
Hall's Illustrated Catalogue of Magic Lanterns. 92 pages, c1870s.
La Lanterne Magique Journal. Bound Volume - 12 Issues, June 1832 to May 1834.
Light a Course of Experimental Optics Chiefly With The Lantern.
501 Pages, c1882.
Optic Projection c1914. "Principles, installation and use of the magic Lantern, Projection
Microscope, Reflecting Lantern, Moving Picture Machine." 750 Pages!
The Magic Lantern How to Buy and Use It. 85-pages, c1866.
Movement in Two Dimensions. "A study of the animated and projected pictures
which preceded the invention of cinematography". 176-pages, c1963.
The Optical Lantern and Cinematograph Journal (Volume 1)
Nov 1904-Oct 1905. 292-pages.
The Optical Lantern for Instruction and Amusement 1890. 120-pages.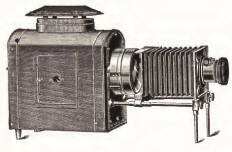 ---