Cruchley's New Picture of London, c1831 "Or visitor's assistant, comprising the history, rise and progress of the metropolis to the present period and a sketch of the most remarkable features of environs necessary to the foreigner or stranger to which is affixed a new map of London", 301 pages.
Dickens's Dictionary of London, c1877. 359 pages.
London City, Its History, Streets, Traffic, Buildings, People.
c1891, 402 pages.
London in 1880. "Illustrated with bird's eye view of the
principal streets, also its chire suburbs and environs" 430
pages.
Mogg's Cab fare Distance Map and London
Guide, c1840. "Containing three thousand places with
reference to their several situations", 37 pages.
Murray's Handbook for Modern London,
c1851. 431 pages.
Paved With Gold, c1899. "or the romance and reality of the streets of London," 481 pages.
Pictorial Handbook of London, c1854. "Comprising its antiquities, architecture, arts,
manufacture, trade, social, literary and scientific institutions, exhibitions and galleries of art,"
958 pages.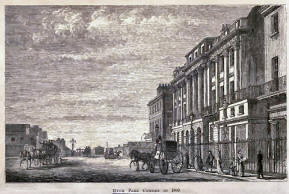 Round About Piccadilly & Pall Mall,
c1870. "or a ramble from the Hay Market to Hyde
Park," 427 pages.
The Ambulator, c1811. "or a pocket companion
for the tour of London and its environs within the
circuit of 25 miles," 362 pages.
Trivia, c1716. "or the art of walking the streets of
London," 161 pages.
Up and Down the London Streets, c1867. 360 pages.
Dickens London 1903. 360 pages.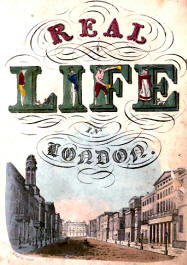 Old London Street Cries 1887
The Grand Panorama of London from the
Thames 1844. A fascinating 12 foot long engraving of the
Thames and bank-side buildings in central London back in
the 1800's!
Travellers' Topographical and Statistical Directory
of Middlesex, 1820. Fact-filled volume detailing every aspect
of the boroughs and history comprising the West side of London
and beyond; 351 pages.
Observations on London Life, 1905. 311 pages.
Real Life in London. "Rambles and adventures through the metropolis exhibiting a living
picture of fashionable characters, manners and amusements in high and low life." 685 pages.
Select Views of London and its Environs 1804. "Containing a collection of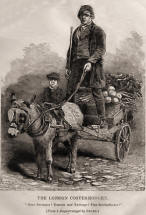 highly-finished engravings, from original paintings, drawings." 496 pages.
London Labour and the London Poor - Vol.1 London
Street Folk 1861. "A cyclopaedia of the condition and earnings of
those that will work, those that cannot work and those that will not work
- with numerous illustrations." 549 pages.
London Labour and the London Poor - Vol.2. "Street folk
comprising street sellers, buyers, finders, performers, labourers & artizans."
London Labour and the London Poor - Vol.3.
"Each volume well illustrated"......
+ PLUS SEVERAL OTHER SIMILAR BOOK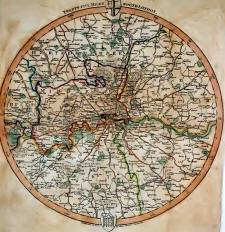 TITLES AND CONTENT
+ PLUS A COLLECTION OF
30+ RARE ANTIQUE MAPS
- INCLUDING SEVERAL
LARGE FORMAT ONES
PERFECT FOR PRINTING!
+ PLUS A UNIQUE COLLECTION OF 24 LARGE,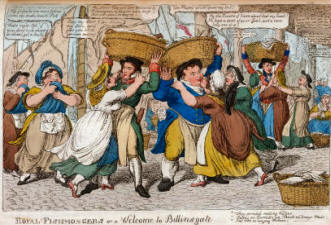 HIGH RES ANTIQUE IMAGES OF LONDON SCENES IDEAL FOR PRINT MAKING!

NOTE THE ABOVE ARE UNIQUELY-RESTORED AND ENHANCED RARE PRINTS EXCLUSIVE TO US.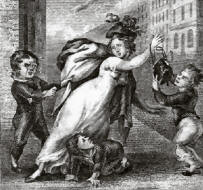 FREE BONUS JUST ADDED:-
London Town was a hotbed of crime, sin, frauds, fallen women and various other attractions. A perfect free bonus therefore are these related additional volumes concerning the Capital City of old...
1. Doings in London, c1840. "Or day and night scenes of the frauds, frolics, manners
and depravities of the metropolis." 434 pages.
2. The London Guide and Stranger's Safeguard c1818 "against the cheats,
swindlers and pickpockets that abound within the bills of mortality forming a picture
of London." 263 pages.
3. The Seven Curses of London c1869. Including "startling facts". 478 pages.
4. The Tricks of the Town c1790. "or ways and means for getting money wherein
the various lures, wiles and artifices practised by the designing and crafty upon the weak
and unwary are fully exposed."
5. The Handbook of Swindling 1839. By Captain Barabbas Whitefeather,
with illustrations by 'Phiz.'
---