1. 200 Eggs A Year Per Hen: How To Get Them. By Edgar Warren c1912. 'A Practical Treatise on Egg Making and Its Conditions and Profits in Poultry.' 101 pages.
2. A Manual on Poultry c1883, 68 pages.
3. Biggle Poultry Book 'A Practical Treatise on the Management of Farm Poultry', by Jacob
Biggle, c1917, 182 pages.
4. Domestic Poultry, 'Being a Practical Treatise on the Preferable Breeds of Farm-Yard
Poultry, their History and Leading Characteristics with Complete Instructions for Breeding and
Fattening and Preparing for Exhibition at Poultry Shows etc.' c1867, 126 pages.
5. How To Keep Hens For Profit by C. S. Valentine, 322 pages.
6. Making A Poultry House c1912, 75 pages.
7. Miner's Domestic Poultry Book 'A Treatise on the History, Breeding and General
Management of Foreign and Domestic Fowls', by T. B. Miner, c1853, 277 pages.
8. Ornamental, Aquatic and Domestic Fowl and Game Birds Their Importation,
Breeding, Rearing and General Management. By J. J. Nolan c1850, 197 pages.
9. Poultry Appliances & Handicraft, 'How to Make & Use Labor-Saving Devices with
Descriptive Plans for Food & Water Supply Building & Miscellaneous Needs; Also Artificial
Incubation & Brooding. C1902, 133 pages.
10. Piper's Poultry 'A Practical Guide to the Choice, Breeding, Rearing and Management of all
descriptions of Fowls, Turkeys, Guinea Fowls, Ducks and Geese for Profit & Exhibition,' by
Hugh Piper, 179 pages.
11. Poultry Breeding & Management by James Dryden, c1916, 420-pages.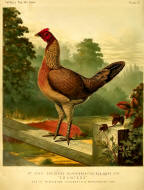 12. Poultry Craft 'A Text Book for Poultry Keepers – What to Do,
How to Do It'. By John H. Robinson, c1904, 276 pages.
13. Poultry Feeds & Feeding c1922, 279-pages.
14. Poultry Houses & Fixtures – 'How to lay out poultry plant;
accurate plans for constructing practical, economical laying houses,
large and small; low cost construction for back yard poultry keepers,
colony and portable houses, incubator amd brooder houses,
administrative and other special purpose buildings, labor saving interior and exterior fixtures and
equipment.' C1919, 114 pages.
15. Practical Poultry Keeping As I Understand It. By G. M. T. Johnson, 130 pages,
c1881.
16. Profitable Poultry Production, by M. G. Kains, c1910, 298 pages.
17. Profits In Poultry – 'Useful & Ornamental Breeds and their Profitable Management.'
c1889, 281 pages.
18. Progressive Poultry Raising by William A. Lippincott, c1920, 65 pages.
19. The Beginner In Poultry by C. S. Valentine, 1914, 483 pages.
20. The Business Hen – Breeding and Feeding Poultry for Profit. By H. W. Collingwood,
c1892, 167 pages.
21. The Call Of The Hen – 'Or the Science of the Selection and Breeding of Poultry', by
Walter Hogan, c1913, 140 pages.
22. The Illustrated Book Of Poultry 'With Practical Schedules for Judging, Constructed
from Actual Analysis of the Best Modern Decisions.' Illustrated with a number of colour plates,
642 pages.
23. The Parasitic Diseases of Poultry 140 pages.
24. The People's Practical Poultry Book A Work on the Breeds, Breeding, Rearing, and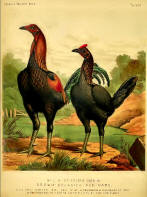 General Management of Poultry, by Wm. M. Lewis, c1871, 231
pages.
25. The Practical Poultry Keeper by Lewis Wright, c1904 edition,
342 pages.
26. Turkey Raising, c1922, 211 pages.
27. Western Poultry Book by Mrs A Basley c1912. ' Tells You
What To Do And How To Do It – The Chicken Business From First
To Last. 230 pages.
28. Natural And Artificial Duck Culture c1906, 156 pages.
29. The Poultry Doctor 'Including the Homeopathic Treatment and Care of Chickens, Turkeys
Geese, Ducks and Singing Birds, also a Materia Medica of the Chief Remedies.' c1891, 93
pages.
30. Breeding And Selection of Commercial Poultry c1917, 28 pages.
---